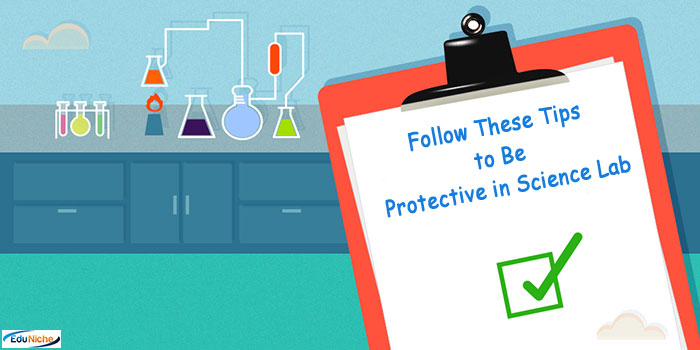 Working in a Science lab is interesting and adventurous. You feel elated on seeing the chemical actions in Chemistry lab and botanical wonders in Biology lab. Still, you need to protect yourself with some safety measures to avoid risks while doing Science experiments.
Safety measures to be followed in Science labs
Wear goggles and protect your eyes.
Wear fitting clothes and don't wear loose ones.
Read the labels on the bottles in Chemistry lab and use only the prescribed chemicals and avoid dangerous chemicals and acids.
Use the equipments under the guidance of instructors who know how to work with the equipments in a Science lab.
Wear footwear to cover your feet and stay protected.
Wash your hand after touching a chemical or acid.
Keep your food and drinks outside the lab so as to avoid contamination.
Don't smell any lab material out of curiosity. It may cause injury to health.
Wear gloves to avoid direct contact with chemicals. Also wear the lab coat.
Science lab work may be hard if you are not prepared for it. Nor should you rely entirely on your partner's efforts for your lab work. Active participation in lab work is possible with the instructions of an Online Science Tutor who helps students with proper techniques and rules for successful Science lab work.
Science homework help online –the necessity for it
Science is tough with many intricate topics in its various branches. It twists student brains with homework tasks once they lack in the fundamental knowledge of Science concepts. Science Homework help from renowned online scholars will compensate the learning issues of students and propels them towards excellent subject scores.
Online help for learning Science reduces your anxiety in learning tough subject topics and helps you get great scores in it.