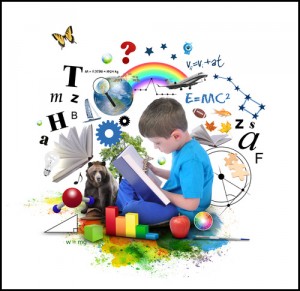 Knowledge is a basic factor that is added up to one's life through education. While educating their kids, parents need to take care that their kids acquire proper knowledge through good insights in subjects like Science, English, Math, Economics and Social Studies. How parents can improve their kids' knowledge? Here are some ways
Inculcating the habit of reading: Reading is one good habit that helps your kid gain that extra edge in topics through researching topics. Not all kids are interested in reading and you need to instill this habit right from his early childhood. Make him read for fun first, then catch up vocabulary and then for the real purpose of reading, that is gaining knowledge.
Ask him 'wh'questions: Help your kid learn things around him with interest and inquisition. Ask him simple questions like 'why the sun is hot?', or 'how many eggs are there?' or 'what is the color of rainbow?' This helps him analyze things and sharpen his critical abilities and acquire skills that help him gather more knowledge.
Help him in academics: Academics helps a kid gather knowledge in various aspects of life. When Science teaches the common truths of life, Math teaches him calculations and other good things like logic. Teach your kid to do his subjects regularly in terms of homework and tests. They help him get used to tough aspects of academics with ease and learn the intrinsic truths in subjects without struggle.
Seek outside help: Some kids may find external support comfortable and relaxing. Seek online tutoring help for such a kid and get him acquainted with an online tutor. He feels comfortable and friendly in the company of an online tutor via personalized interactions. This in turn helps him collect necessary information he wants in subjects and thus improves his knowledge.
It is basically parental affection and guidance with patience which takes kids in the right channel towards improving his knowledge.